As of 05/03/09 12:00 p.m. Pacific time, we know of 99 events in 27 States.
What started as an attempt to provide a guide for attendance and a curiosity to know when and where, has turned into a project to keep these lists as accurate as possible for The Record.
If you find that events you know of, are missing here, or, if you know of an event that wasn't, or, if you are aware of any cancellations...
...Please contact me and let me know all about it. (Links to info-source-sites and, or contacts would be very helpful and very much appreciated - TXs!)
(Latest additions: Fort Pierce FL, Forks WA, Memphis TN and Dallas TX)
No May Day Action in your city? Or, you just can't make it to one?
Join the
Virtual May Day Immigration Reform March
, May 1 March Location & Immigration Reform Updates
by ufw
More info on these events in this list will be added as it becomes available, this list will be updated up to where we feel it is correct.
(Last update: 05/03/09 12:00 p.m. Pacific Time)

Mas información sobre estos eventos serán añadida a como se vaya sabiendo, esta lista será actualizada hasta que sentamos que es correcta.
Actualizado: 05/03/09 12:00 p.m. Tiempo del Pacifico)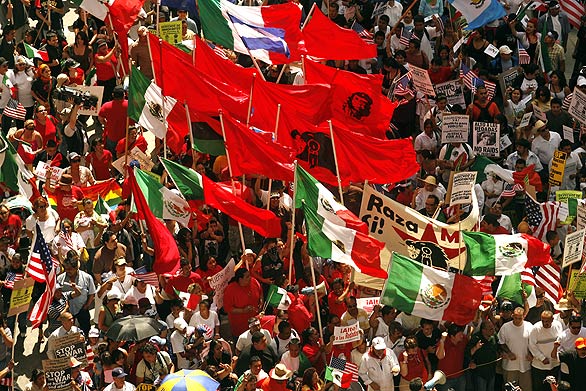 Our thanks to:
A New Day For Immigration
,
Radio Bilingue
,
The Peace and Freedom Party
and
Burning Cane
- For their combined help in compiling this list.
(Click for Abreviated list of MayDay 2009 events in Ascending Alpha Order)
Albuquerque, New Mexico
March Starts at 4:30pm at Holy Rosary Church, 5525 Fortuna Road
Tiguex Park
3 – 5 PM
Contact: Rachel Lazar
Asheville North Carolina
Begins at 5:30pm in Pack Square, Downtown Asheville
Ada Colkmer -
adacolkmer@colawnc.org
Atlanta Georgia
Begins at 10AM at the Capitol Building on Washington Street
Contact: Adelina Nicholls
adelinan@aol.com
Austin, Texas
Mitin / Rally
Capitolio estatal - Will be held on the State Capitol South Steps
5 – 7:30 PM
Contact: Caroline Keating-Guerra,
austinirc@gmail.com
Bellingham, Washington
Mitin
Cornwall Park
12-6
Berkeley
Rally y Marcha
Sproul Plaza al City Hall
11 AM
Boston - March and Rally
Take the day off on May 1! Join the BMDC contingent!
Friday, May 1, 2009
Glendale Park, Elm St., Everett, MA 4:30 pm
March from Central Square,
East Boston, gathering time 2:00 PM
March from Chelsea City Hall, gathering time 3:00 PM
This event is organized by the May 1st. Coalition of Chelsea, East Boston & Everett and supported by: The Boston May Day Committee.
www.bostonmayday.org
- 617-290-5614
Contact: Marcony Almeida -
malmeida@miracoalition.org
OR Sarang Sekhvat -
ssekhvat@miracoalition.org
Cal State Dominguez Hills: Labor and Social Justice Fair Conference
California Labor & Workers
12:00 PM-09:00 PM
Friday, May 1st.
April 16, 2009 FOR IMMEDIATE RELEASE
Labor Leader, UFW Co-Founder Dolores Huerta to Open Labor and Social Justice Fair at CSU Dominguez Hills
Calexico, May 1st Binational immigration symposium Conference
California
Immigrant Rights
08:30 AM-08:30 PM
Mentor Program Promotes Student-Faculty Cooperation at SDSU, IVC
Chelsea, Massachussetts
Marcha
City Hall a Central Square
2 – 5 PM
Chicago, IL: MARCH ON MAY FIRST, MARCHA EL PRIMERO DE MAYO
Union Park, Ogden and Ashland
10:00 AM-04:00 PM
Contact:
comite10demarzo@gmail.com
More information at
www.movimiento10demarzo.org
Chico, CA
Mitin/Marcha
City Hall
3 – 8 PM
Clearwater, FL - RALLY
Location: 1366 Lakeview Rd., Clearwater, FL 33756
Date: May 1th
Time: 9:00 pm
Spoke Persons:
Rev. Moises
Rev. Feliz Pérez
Rev. Nancy Mayeux
Juan Pablo Chávez
Participants Organizations: Iglesia el Shadai, El Calvario, Florida Immigrant Coalition, , Pinellas Immigrant Coalition, Justice for our Neighbors a program of United Methodist Church.
http://www.floridaimmigrant.org/
Dallas, Tejas - Marcha
6 p.m. del viernes 1 de mayo
La marcha inicia en la Catedral Santurario de Guadalupe, 2215 Ross Ave., hacia la Alcaldia de Dallas
"Marcha: La Coalicion Internacional de Mexicanos en el Exterior invita a la comunidad a una marcha para exigir una moratoria a las deportaciones de personas sin
antecedentes criminales en la region y pedir una reforma migratoria.
Dade City, FL - RALLY
Location: Meridian and Seventh Street
Date: Friday, May 1th
Time: 12:00 pm to 2:00pm
Spoke Persons: Margarita Romo
Participants Organizations: Farmer Workers Self Help
http://www.floridaimmigrant.org/
Davis, CA
Mitin y marcha
UC Davis Campus
11 – 2 PM
Denver, CO
NOTE: Denver, CO is only a meeting point for people to drive up together to the Greeley Co. In other words, the Denver event is not a march..the statewide march is in Greeley CO.
12th & Mariposa Lincoln Park
10 AM
Detroit MI: 4th Grand Peaceful March
10:00 AM, Start at W. Vernor & Woodmere
RALLY at Clark Park at 12:00 Noon
El Paso, Texas
Gather at the corner of Mills and Walnut at 4:30pm and march to downtown - Placita de los Lagartos
Contact: Marisol Miranda
mrslmiranda@yahoo.com
Elizabeth, New Jersey
Mitin
Warinanco park
11 AM
Farmersville, CA
Marcha
Parque Memorial
4 PM
Fellsmere, FL - RALLY
Location: at City Hall
Date: Friday, May 1th
Time: 5: pm to 7:pm
Spoke Persons: Yolanda Gomez
Participants Organizations: The Farmer Association of Florida, Voices of Justice
http://www.floridaimmigrant.org/
Forks, WA - March, Rally, and Potluck
Saturday, May 2
Starting at noon at Tillicum Park
Organized by:
Stop the Checkpoints Committee of the North Olympic Peninsula
Dear Aurora,
Please include our May Day March, Rally, and Potluck in Forks, Washington, on Saturday, May 2, starting at noon at Tillicum Park.
Thanks for putting this list together. It is very energizing!
Susan Dorazio, on behalf of the Stop the Checkpoints Committee of the North Olympic Peninsula.
Past actions:
STOP the CHECKPOINTS Rally & March
(Saturday, Sept. 20, 2008 at 1:00pm)
FORT PIERCE, FL. - RALLY
Location: 2200 VIRGINIA AVE.
Date: Friday, May 1th
Time: 5-7 PM
Spoke Persons: José Cabriales o Irma Cabriales
Participants Organizations: Florida Immigrant Coalition, Latin Chambers of Commerce,LAC (Latin american Coalition) Centro Pastoral San Juan Diego, Iglecia Missionera 'UN ENCUENTRO CON JESUS' (Pastor Favio Ocampo) Haitian American Assoc. (Mrs. Bernadette)
http://www.floridaimmigrant.org/
Fresno, CA
Friday, May 1, 2009
Gathering at 5:00 p.m.
March begins at 6:00 p.m.
Eaton Plaza (at the water tower)
Fresno Street and "O" Street
, Fresno, CA
Fresno, CA
Mitin y marcha
Centro Civico - Fulton Mall
4 - 8 PM
Fort Bragg, CA
Marcha
Tienda La Bamba
9:00 AM
Gainesville, FL: Mayday Demonstration
Kirby Smith Community Center, 620 East University Ave.
04:30 PM-06:30 PM
Greeley, CO:
Unity March for Immigrants Rights!
Saturday, May 2nd, 2009
Starts at the Island Grove Park – 514 N. 14th Ave, Greeley, Colorado
For More Information:
alfrentedelucha@gmail.com
, 970.388.0834 or 303.887.2795 OR,
Julien Ross -
julien@coloradoimmigrant.org
OR Alonzo Barron
zo_aztec35@hotmail.com
Denver! Meet at one of these points to Caravan or take a Bus to Greeley at 9:30 AM, Saturday, May 2nd, 2009!
Aurora—16th & Dallas or Denver —12th & Mariposa (Lincoln Park)
You are welcome to bring Food or Donations for Greeley families affected by ongoing immigration Raids!
Denver Contacts: Homero 303.437.7805 & Nacho 720.621.7468
City officials meet to discuss safety issues around Unity March
Greeley officials met Friday to discuss precautions to ensure next Saturday's
(May 2)
"Unity March," which is expected to draw hundreds of people from out of town, is a peaceful and safe event.
The meeting was organized by Rich Lopez, a board member of the Greeley Latino Chamber of Commerce. Besides raising safety concerns, Lopez said he called the meeting to emphasize that
the Latino Chamber of Commerce has no connection to the Unity March.The chamber this year is sponsoring the local Cinco de Mayo celebration, which previously had been organized by the city.
By coincidence, Cinco de Mayo events will also take place next Saturday afternoon at Island Grove Regional Park.
The fact that both events will take place at the park — the march begins and ends there — has fueled confusion, officials said.
HAYWARD, CA - March & Rally
10 a.m. Weekes Park, (
27182 Patrick Ave
)
10:30 - 12:30 March to City Hall
1:30 Hayward City Hall Rally ('hopefully with Mexica Danzantes' said our source)
Immokalee, FL - RALLY
Begins at 5pm in the Immokalee Community Park at 312 1st Street North
Contact: Gloria Hernandez or Adan Labra
Immokalee, FL
Location: Immokalee Community Park 321 1st Street
Date: MAY 1st
Time: 5:30 – 8:30 PM
Spoke Persons:
Gloria Hernandez
Adán Labra
Naples Marcos Ramírez
Pueblo Bonito: Pastor Carlos
Rita Méndez
Margarita Garza
Juan Medina:
Participants Organizations: Farmer Worker Association, Violencia Domestica de Immokalee, Immigrant United for Freedom, Meyers Stanley INC, LULAC.
http://www.floridaimmigrant.org/
Jersey City, NJ - ABRIL 29
Rally
Journal Square
3 PM
Kalamazoo, MI: MayDay March
5:00 pm, St. Joseph Gymnasium, 930 Lake St.
contact: Adrian Vazquez
Las Vegas, NV: May 1st Justice for Immigrants March
3:30 Meet-up Commercial Center, Sahara and Eastern
5:00 March to Federal Courthouse
03:30 PM-06:30 PM
Las Vegas, Nevada
Mitin
US Federal Courthouse
7 PM
Longmont, CO: UNITY MARCH
Detention & Deportation
11:30 AM-01:30 PM
NOTE: This event to this moment is still unconfirmed, any clarification would be deeply appreciated, what is confirmed is that a UNITY MARCH will be held in Greeley CO
Los Angeles
May Day March
W Olympic Blvd & S Broadway
Begins at Broadway and Olympic, Los Angeles, 01:00 PM-04:00 PM
Downtown Los Angeles Ends at I.C.E. Detention Facility - Temple Street (between Los Angeles and Alameda) 4PM [
Map
]
For more info, (323) 602-3480 or
mailto:immigrationcoalition@yahoo.com
Los Angeles, CA: May 1st March by MIWON and LA County Fed
March May Day 2009 Mobilization
Friday, May 1st 2009
"Postcard to the President" March and Rally
MIWON, along with its partners for May 1st 2009, the Los Angeles County Federation of Labor (LACFL) and the Central American Resource Center (CARECEN), invite you to join us in an exciting new approach to the annual May 1st March.
01:30 PM-06:30 PM
1:30 PM Meet at Echo Park, Echo Park & Park Ave.
4:30 PM Rally and postcard action at La Placita Olvera 535 N. Main Street
Contact: Xiomara Corpeno,
xcorpeno@chirla.org
OR Antonio Bernabe CHIRLA Organizer
abernabe@chirla.org
Los Angeles, CA - ABRIL 30
Immigrant Rights Teach In
Antioch University
2 PM
Louisville, KY: May Day Rally
The Bridge
Connecting You to the Politics and Events of Greater Louisville and Kentucky
JOIN THE MAY DAY COALITION'S RALLY FOR PASSGE ON THE EMPLOYEES FREE CHOICE ACT AND OTHER URGENTLY NEEDED CHANGES
11:30 AM-01:30 PM. Gather at Courthouse for March (Broadway & 6th)
Noon: Rally at Jefferson & 6th
More info contact Vivian Marin
villarrealufcw227@yahoo.com
OR
sbartlett@ag-missions.org
or call (502) 896 9171
Louisville, KY
Mitin y marcha
Courthouse a Jefferson Park
5 – 7 PM
McAllen, Texas
Marcha
Municipal Park
6 PM
Madera, CA
Mitin
5 PM
Madison WI: March for the poor, immigrants & workers
11:00 a.m. Gathering at Brittingham Park
11:45 p.m. Depart Park to the Capitol
12:00 p.m. Capitol event
12:30 p.m. Depart Capitol to City-County Building
12:45 p.m. City-County event
More information in the Official Website of the rally
www.maydayinmadison.org
Contact: Yvonne Geerts 608/335-0357, Alex Gillis (608) 345-9544
Print and Post Posters
Martinez, CA
Vigilia y marcha
Martinez Marina
5:30 PM
Memphis, TN -
Overton Park in Veteran's Plaza, 4-6 PM
Mendota, CA - ABRIL 29
Marcha de los Niños
10 AM
MIAMI MAYDAY 2009! - RALLY
Downtown Miami, 100 Chopin Plaza - 33131 (S.E. 2 Street & Biscayne Blvd.)
04:00 PM-08:00 PM Friday
4:00: RALLY Music, Speakers, More
5:30: MARCH on Brickell "Bank" Ave
Spoke Persons: Carlos Pereira
Florida Immigrant Coalition
Katherine Gorell
May Day 2009 Mobilization
[
Flyer
]
http://www.floridaimmigrant.org/
Carpool from St. Petersburg leaves at 11:00am from the Park N Ride, 22nd Ave and 19th St, N. Cost of $7 per passenger to cover the cost of gas. Reserve your spot: email
carpool@stpeteforpeace.org
or call Bruce at 727-278-1547.
MiamiMayDay@gmail.com
305 801-0245
OR Juan Pablo Chavez
juanpablo@floridaimmigrant.org
OR
Maria@floridaimmigrant.org
Participants Organizations: Miami May Day Alliance, Broward Anti-War Coalition, Centro de Orientación del Inmigrante (CODI), Florida Immigrant Coalition (FLIC), Florida Peace Congress, Green Party of Florida, Socialist Party USA, South Florida Palestine Solidarity Network, Students Working for Equal Rights (S.W.E.R.), Unity Coalition /Coalicion Unida, Power U, We Count!, Fanm Ayisyen Nan Miyami, Inc. (FANM)/Haitian Women of Miami, League of United Latin American Citizens (LULAC Florida), Miami Veterans for Peace, South Florida Interfaith Worker Justice, Vecinos Unidos, American Friends Service Committee,Guatemalan Community--Hispanics Without Borders, The Coalition of Hispanics Integrating Spanish Speakers through Advocacy and Service (CHISPAS), Human Services Coalition, Pax Christi Palm Beach, Lake Worth Catholic Worker, Fort Lauderdale Food Not Bombs, Democracia USA, Miami for Peace, Pan-African Nationalists Movement of South Florida, BocaPeaceCorner.com, Haiti Solidarity, South Florida Peace and Justice Network (SFPJN) and School of the Americas Watch
Milwaukee, WI: Statewide Immigrant & Labor Rights March
May Day 2009 Mobilization
12:00 PM-02:00 PM
Voces de la Frontera is holding a
statewide immigrant and labor rights march
Depart from 5th and Washington Streets to Veteran's Park (VDLF office: 1027 S. 5th Street)
For more information on May 1 activities and how to participate in Milwaukee and other Wisconsin cities, contact Voces at (414) 643-1620. Those interested in sponsorship should also contact Jeanne Geraci at
jeanne@vdlf.org
. You can also drop by the workers' rights center at 1027 S. 5th St. in Milwaukee.
Or 414-643-1620 x-201 or
vanessa@vdlf.org
Minneapolis, Indiana - International Workers Day March & street festival
From Lake Street & 13th Ave S to Street Festival at 29th & Nicollet
04:00 PM-08:00 PM
MIRAc Minnesota Immigrant Rights Action Coalition
Small size flyers for leafletting:
May 1 quarter-page flyer - English
1 de mayo - volante pequeno - Espanol
NOTICE Submitted by ludditerobot on Thu, 04/23/2009 - 13:20
CALL-IN TODAY:
Permits Denied for Immigrant Rights March
(
The MN Immigrant Rights Action Coalition and the May 1st Coalition are planning the
4th Annual March for Immigrant Rights on May 1st, 2009. We have solicited permits
for a march down Lake St. and a rally on Nicollett Ave, and they have both been
denied.
Modesto
Mitin
Hatch Road/Crow Landing
10 AM
Modesto, CA - ABRIL 29
Rally-March
Gil's Plaza
3 PM
Montpelier, VT: Rally
May Day 2009 Mobilization
Vermont Statehouse, 111 State St.
12:00 PM-03:00 PM
There will be a Brattleboro VT May Day event, the only details we have are related to the Montpelier event from the Liberty Union Party as part of their
Statewide May Day Campaign "Healthcare is a Human Right"
- Liberty Union will be holding their usual Brattleboro MayDay event, at 3:30pm AT THE TOWN COMMON (as the Montpelier rally goes from 12-2 )
Mt. Vernon, Washington
Mitin y marcha
11am
Mountain View, CA
Vigilia
The Worker Center
Calvary Church
5 PM
NAPA, CA - Vigilia / Vigil
Latinos Unidos del Valle de Napa y Solano, La Unión de Campesinos, Voluntarios de la comunidad de Santa Helena, Club de Atacheo, Michoacan, El Balet folklórico del Napa Valley Collage and Clubs CHA & Puente. INVITES YOU TO,
What: A Vigil
When: Friday, May 1st.
Where: Veterans Park in Napa Downtown From 5:00 p.m. to 7:00 p.m.
More Info: Marisa Loza at (707) 226-1088 or Hector Olvera at (707) 258-2369
Download Flyers:
English
Spanish
New Hampshire
At Manchester City Hall Plaza, 4pm.
Contact: ecastillo@miracoalition.org
New York, NY MayDay
Rally & March for Workers & Immigrant Rights -
NY May 1st Coalition
04:00 PM-06:30 PM
Friday, May 1st 2009 [
Flyer
]
Union Square
Assemble: 12 noon
14th St. & Broadway, Manhattan
Music & Performances: 4:00 pm
March to Federal Plaza: 5:30 pm
New York, NY: May Day Rally for Workers and Immigrants Rights
Union Square, 14th Street & Broadway
12:00 PM-07:00 PM
2:00pm, RALLY at ROOSEVELT PARK in CHINATOWN
(Grand St. between Forsyth and Chrystie St., B/D Train to Grand St. Station)
3:00pm, MARCH to UNION SQUARE
Join
National Mobilization Against Sweatshop (NMASS)
at a rally at Roosevelt Park in Chinatown
For more information, contact the Break the Chains Alliance, c/o NMASS 212-358-0295 |
info@breakthechainsnow.org
This e-mail address is being protected from spam bots, you need JavaScript enabled to view it |
www.breakthechainsnow.org
New York, NY
Foro Publico sobre Acta STRIVE (Public Forum on the STRIVE Act)
LaGuardia Community College
1 – 2:30 PM
Newark, New Jersey
Start at 11:00AM in Lincoln Park on Broad Stree, march to 970 Broad St (Federal Immigration Buliding) - rally will begin at 1:00pm
Contact: Lou Kimmel,
lkimmel@newlabor.org
Oakland, CA:
FRIDAY MAY 1ST 2009
Program at Fruitvale Plaza 3:30-4:30pm [
Map
]
March to City Hall 4:30-6:00pm
More info: Sagnicthe Salazar
Youth Together
Castlemont Site Organizer
510-812-1426
Oakland, CA:
Students/Youth MARCH to City Hall!
GATHER at High St. and International Blvd.
10:00 AM-01:00 PM
Olympia, WA
BRICK's 6th Annual May Day Hoe Down (Bust the Banks!)
May 1, 7pm-Midnight
At the SPSCC Gymnasium - 2011 Mottman Road SW
Featuring live music (The Blackberry Bushes, The Grizzle Grazzle Tune Snugglers, and squaredance caller Paul Silveria), food, dancing, and a celebration of International Worker's Day. The best part is, it's all free.
What is May Day?
Today we see tens of thousands of activists embracing the ideals of the Haymarket Martyrs and those who established May Day as an International Workers' Day. Ironically, May Day is an official holiday in 67 countries and unofficially celebrated in many more, but rarely is it recognized in this country where it began.
Orlando, FL
Location: 101 N. Rosalind Ave.
March from downtown Orlando to immigration courthouse.
Date: Friday, May 1th
Time: 4:30 to 6:00pm
Spoke Persons: Tirso Moreno
Elvia Zamora- Ana Treviño
Roberto Cancel
José Luis Marantes
Juan Pablo Chávez
Joyce Hamilton
Participants Organizations: Hope Community Center, Democracia Ahora, ACLU, Florida Immigrant Coalition, Farmer Worker Association, Job for Justice.
http://www.floridaimmigrant.org/
Philadelphia, a May Day Rally is being organized by the Pennsylvania Labor History Society (PLHS) and the Philadelphia Area Project of Occupational Safety and Health (PHILAPOSH).
MAY DAY USA – A DAY TO HONOR ALL WORKERS
FRIDAY, MAY 1 – NOON TO 2 PM
Elmwood Park @ South 71st St. and Buist Ave.
Southwest Philly
PITTSBURGH, PA: May Day - International Workers' Day
4:00 p.m. Vigil at ALLEGHENY COUNTY JAIL, 2ND AVE.
5:00 p.m. March for Immigrants' Rights
Phoenix, AZ: Walk For Respect-Stop Arpaio! Stop 287(g)'s! Stop the Cruelty!
Rally March
Veteran's Memorial Coliseum to State Capitol
May Day 2009 Mobilization
08:00 AM-11:00 AM
MEET AT: ACLU-AZ Office
ADDRESS: 77 E. Columbus Ave. Suite 205, Phoenix
TIME: 8:00 AM Breakfast & Coffee
8:30 AM Collectively, we will take the light rail to the downtown Wells Fargo Tower, 100 W Washington, to Tent City (4 mi)
MARCH TO ARPAIO'S JAILS THIS SATURDAY, May 2nd!
Join us and Zack De La Rocha this saturday as we protest Arpaio and 287g in Phoenix AZ.
http://www.youtube.com/user/Humanleague002
Portland, Oregon
May Full Mobilization
May Day 2009 - March and Rally for Immigrant and Workers' Rights: Economic Justice for All!
Friday, May 1st, South Park Blocks, SW Salmon and SW Park
1pm – Posters and Party, 4pm – Speakers and Entertainment, 5pm
http://maydaypdx.blogspot.com/
- [
Flyer
]
Portland May Day Coalition (503) 236-5573
Providence, Rhode Island
Rally outside of the USCIS office at 3:30pm
Contact: Michelle DePlante,
mdeplante@iiri.org
Raleigh, North Carolina
Manifestación pasiva
Cámara legislativa
Riverside, CA: Immigrants / Workers Rights = Human Rights MayDay March
Friday, May 1, 2009 4 04:00 PM-06:00 PM
March begins at Cesar Chavez Community Center 2060 University Ave, Riverside CA
March to City Hall, 3900 Main Street
Legalization, an end to raids, DREAM Act, Employee Free Choice Act, good jobs for all and racial unity! [
Map
]
Sacramento Bail out the Workers not the Bosses
LCLAA Site
Friday, May 1, 2009, 6 p.m.
State Capitol (west steps)[
]
Sacramento, CA
For questions, contact march committee: (916) 446-3021 or
cel: 712-4251 cel
Sacramento, CA
Marcha
Hiram Johnson High School a State Capitol
10 AM
Salem, OR: Unity March
May Day Rally and March for Comprehensive Immigration Reform
Friday, May 1st, 11:00 AM-03:00 PM,
Oregon State Capitol, 900 Court St. NE, Salem, Oregon
On Friday May 1st, thousands of Latinas and Latinos and our allies will march and rally at the Oregon State Capitol to call attention to our plight for a just immigration reform that will bring millions of immigrants out of the shadows.
For more information call CAUSA at 503-269-5694 OR visit
www.causaoregon.org
Salinas, CA
Cuatro marchas
Constitutional y Laurel
12 PM – 5 PM
SAN ANTONIO, TX: International Workers Day March
May Day 2009 Mobilization
06:00 PM-08:00 PM, Milam Park In Front of Santa Rosa Hospital
SAN ANTONIO, TX: International Workers Day MArch
Rally
San Antonio, Texas
Mitin y marcha
Plaza del Zacate
12 PM – 7 PM
San Diego, CA
Marcha
Chicano Park a City Hall
10 AM
San Diego, CA
Rally
City College
3 PM
San Francisco, CA: SF May Day March And Rally
Friday, May 1, 2009
12:00 p.m. (Noon)
Dolores Park
, San Francisco, CA
[Map]
Flyers:
Sf Mayday09 Flier Eng
-
Sf Mayday09 Volante Esp
-
SFBOS Mayday08 Intl Workers Day Resolution
San Jose, CA: May Day Action
Story Rd. & King Rd. to City Hall (Santa Clara St. & 4th St.)
04:00 PM-06:00 PM
Santa Barbara, CA
Begins at 6:30pm in Presidio Springs at 721 Laguna Street
Contact: Belen Seara
Santa Cruz, CA: May 1st March & Rally for Immigrant & Worker Rights
Watsonville Plaza to Main Street and Beach Street
04:00 PM-09:00 PM
Santa Fe, New Mexico
Marcha
Downtown – De Vargas Park
4 – 7 PM
San Rafael, CA
Vigilia y marcha
Community Center – Canal
6 AM – 10 AM
Santa Rosa, CA
Marcha
Old Albertsons Shopping Center
11 AM
Sarasota, FL
Reclaim the Streets PARTY - May Day 2009 - Sarasota
Meet at) 5 Ponts Park
May 1, 2009 - 3:00pm - 6:00pm
1331 First Street
Contact: Rick Pfahl
Seattle, WA: 9th Annual May 1st
March & Rally
May Day 2009 Mobilization - CONFIRMED, THIS IS THE ONLY MAYDAY '09 ACTION IN SEATTLE.
Rally 3:30PM Judkins Playfield (behind St. Marys Church - 611 20th Ave S)
March 4:00PM [
Flyer
]
For More Info: (206) 324-6044
www.elcomitewa.org
(CORRECTION - THIS ENTRY WAS FOUND INVALID, NO SUCH ACTION IN SEATTLE)
Seattle, Washington
Marcha y mitin
Seattle Center Fisher Pavillion
3 PM
SFA 'Dine with Dignity' May 1st Campus actions
Meeting
U.S.
May Day 2009 Mobilization
09:00 AM-09:00 PM
Tampa, FL
Location: Columbus and Dale Mabry
Date: Friday, May 1th
Time: 3:00 pm to 5:30 pm
Spoke Persons: Lurvin Lizardo
Blanca Gonzales
Participants Organizations: Hondurenos Unidos, Immigrant United for Freedom
Tucson, AZ
Marcha y mitin
South Gate Shopping Center
8 AM
Vancouver, Canada
Marcha en Solidaridad con los Inmigrantes, Migrantes e Indocumentados
Clark Park a Grandview Park
6 PM
Washington DC/Maryland/Northern Virginia May 1st Rally
Malcolm X Park, W St. NW and 16th St. NW
03:00 PM-06:00 PM
Contact: Esteban Garces,
egarces@tenantsandworkers.org
Washington D.C.
APRIL 30TH- 100TH DAY ACTION IN DC!!!
Protest
Detention & Deportation
10:00 AM-03:00 PM
West Palm Beach, FL - Letters to Michelle Obama for Mothers Day
Location: (Waiting for info)
email to
iwillresist@gmail.com
Date: Friday, May 1th
Contact: Radym
Participants Organizations: Palm Beach Coalition
Wichita, KS: May Day March
City Hall, 455 N. Main Street, 455 N. Main Street
06:00 PM-08:00 PM
Contact: Emira Palacios,
emira@sunfloweract.org
Yakima, Washington
Marcha
Miller Park
3:30 PM
---
Abreviated list of MayDay 2009 events in Ascending Alpha Order & list sorted by State
-
(Top)